How To Outsource: Benefits And Risks
Outsourcing in business is a way to work remotely with experienced development companies to turn your idea into real, fully functional software. As a result, you can save resources and delegate critical tasks to those who can perform them correctly. There are many ways to build software efficiently, and outsourcing is very much worth considering. Managed well, outsourcing will support your aims and reduce costs. Outsourcing in IT, using a suitably experienced company, is very effective and efficient.
What Is IT Outsourcing?
Outsourcing implies the use of third-party services that build software according to your requirements. Outsourcing is possible both within your local geographical area and abroad. You can outsource either just certain discreet processes or contract out the entire project on a turnkey basis for your software to be built from scratch with all development-related processes implemented.
Remote cooperation has become even more popular during the covid pandemic.  Many business are looking for a dependable IT outsourcing company to take care of complex development processes. Entrusting the project to specialists helps clients achieve their specific requirements.
Go Wombat is engaged in software development on an outsourcing basis, with teams producing great product on the basis of a solid relationship with clients. Our company's policy is to be transparent – we don't hide our developers away – and we are always glad to meet clients personally in our office or visit them in any European country. Our business development managers and developers regularly visit conferences outside Ukraine.
Contact us if you have plans for developing new software or need  a professional consultancy.
What Are Advantages Of Business Outsourcing?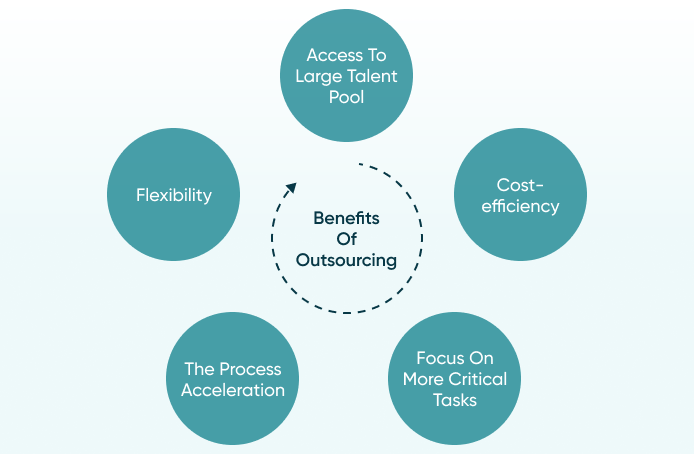 Access To Large Talent Pool
Outsourcing makes it possible to hire a tech-savvy development company with significant experience in various technologies. Outsourcing may be the appropriate and cost-efficient solution where you need a certain specialist but have difficulty finding in-house developers in your region.
Today's easy global communication means that the geographical location of your outsourcing contractor is a much less important factor than their quality.  Whether the contractor is offshore (abroad) or onshore (within your own country), the quality and cost-efficiency you need are available from collaboration with talented developers. Many business entrepreneurs consider nearshore locations (in neighbouring countries) to be convenient if they already have business there.
Ukraine is proud of its wealth of skilled and talented developers and specialists, who have a solid technical background and build first-rate software. You can find more reasons to work with Ukrainian development companies in our detailed article on six reasons to work with a Ukrainian IT company.
Subscribe to our blog for the latest updates.
Cost-efficiency
A flexible approach to outsourcing costs produces cost efficiency. At Go Wombat, we provide a flexible system of pricing, and each project is costed individually to fit its requirements and characteristics.
Focus On More Critical Tasks
As a business owner, you can contractors with experience in outsourcing handle the relevant tasks and assist the creation of your software. In turn, you can concentrate on other tasks that require your personal involvement. Therefore, you solve existing significant problems while the outsourcing contractor does the rest.
Process Acceleration
Another benefit of outsourcing lies in faster implementation. If your staff is limited and you don't have appropriate specialists in the team, you can delegate specific processes to an IT outsourcing firm like Go Wombat — it will accelerate the development process.
Flexibility 
If you intend to build the project using the skills of your in-house team only, you should remember that the software development world is constantly changing. Your team will need to adapt to new demands rapidly. By contrast, a reputable outsourcing team always keeps up with recent trends.
Moreover, flexible outsourcing means that you can always hire the appropriate team members you need at any given moment (front-end or back-end developer only, or both). The size of your team can be  scaled up or down depending on the needs.
What Are The Risks Of Outsourcing And How To Mitigate Them?
There are some weak points and risks in outsourcing; however, these can be mitigated.
Although outsourcing is a more profitable option, no one wants to find out that they will have to spend much more money after the development process initiation. This is a risk which can be mitigated by discussing and coordinating contract models with the potential service provider. The final cost will depend on the model you choose.
When hiring an outsourcing firm, make sure that you have drawn up all the software development requirements. Discussing every tiny detail with a contractor will be an additional guarantee that extra costs won't appear.
Go Wombat works with 3 pricing models:  Fixed Price; Time and Material; and Dedicated Team. Time and Material is the model we use most frequently as it allows our clients to have an adjustable development process — they pay for services provided and hours spent, and they always can add something if consider it necessary.
Lack Of Control
Some entrepreneurs think it is too risky to work with a remote team since they don't have absolute control over the project. Even though communication with a remote company may be continuous and flawless, some concerns may still remain.
A manager in charge of product development control, and working to an agreed plan,  can communicate with the dedicated development team and solve arising issues with them. If you don't want to delegate the entire project for the development, identify those aspects you are prepared to entrust to the remote outsourcing team and designate the key responsibilities of each team member.

Go Wombat go through important points and explain to you what aspects you should focus on more. We pay careful attention to communication with clients. Our project managers and development team hold online meetings every day, and they discuss every aspect and issue related to the project development so that critical points are not missed.
How much will you need to invest in software development? Contact us to obtain a detailed estimate.
Communication Issues
Language, culture and time zones are considerations when starting project outsourcing.
Language is usually not a problem at all in the IT sector, as English is dominant global language. In Ukraine, IT companies require their specialists to have at least an intermediate English-speaking level so  they can communicate easily with foreign clients. Go Wombat considers this aspect as crucial.
Cultural differences are generally no obstacle since outsourcing companies are used to working with foreign business owners, and they know the proper rules of business communication. Reputable companies anticipate and adapt to the needs and expectations of clients. Go Wombat's tech specialists travel frequently to other European countries and have a wide cultural appreciation.
Time zone differences can even be advantageous rather than a difficulty. Go Wombat's clients are located primarily in the EU, and a 1-2 hours difference isn't an issue. If you are located in the US, your project is being developed and created while you sleep;  in the morning, there is suitable time for online meetings and communication.
Legal Aspects
Sharing sensitive information with IT contractors may always seem a risky procedure for intellectual property. When business owners order software development, they want to be confident that their idea and product won't be copied or stolen. Part of due diligence about the potential outsourcing contractor can be reading reviews on trustworthy industry websites like Clutch.co or GoodFirms. A well-written Non-Disclosure Agreement will provide the appropriate protection.
Go Wombat has an office in Tallinn, Estonia and works within the European legal framework. We strictly follow all regulations like GDPR (General Data Protection Regulation) and other fundamental laws. Convenient taxation also contributes to attractive conditions of cooperation.
Why Should You Choose Go Wombat?
Go Wombat is an IT consulting company with considerable expertise in software development (including the key sectors of AdTech and Travel), and we have been creating web and mobile applications for more than six years. We focus on Python/Django tech stack to create software, and our experience proves that Python is an excellent solution for AI and ML-based applications.
Our main priority is to deliver top-notch solutions to our clients. This  article gives more details about it.
So, if you are considering new software from scratch, contact us to start the development process right away. We are wiling and able to handle exciting new challenges.