Hiring A Full-Stack Development Company: Benefits, Challenges and Steps To Hire
Nowadays, business owners want to work with a company that provides a wide range of development capabilities and want a team capable of creating complex software from scratch. The search for a full-stack company can be tricky and due diligence is essential.
The Benefits Of A Good Web Full-Stack Development Company
A Complete Project. A full-stack software development company provides a full-cycle development process on a turnkey basis. The company analyses the client's requirements, creates UI/UX design, develops the client side (front-end) and the server side (back-end) technology, performs quality assurance and, crucially, supports the project after its release into operation. The full-stack company can build and develop software and work with databases, containers, hosting, web servers, and other related aspects.

At Go Wombat, our developers can build many types of projects. Our principle technology stack is Python/Django and JavaScript and React for the front-end, and React Native for cross-platform app development. You can read more about the reason we choose Python for development in our recent article. Just as the tech stack may vary depending on the project's requirements, so might the personnel. If you need to change a software engineer, Go Wombat can arrange this if there are available specialists of the same level. We are always open to discussion.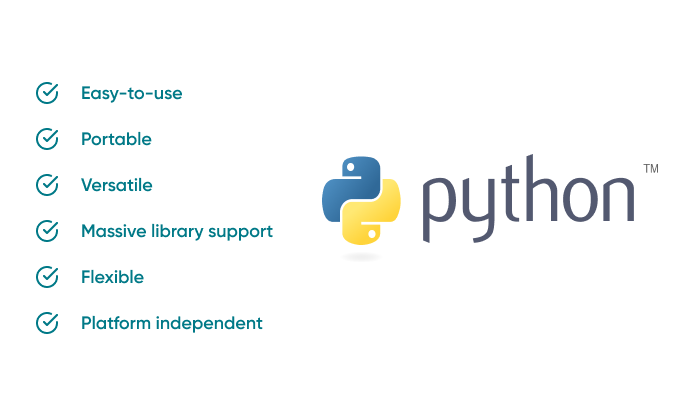 Need a development team for the project? Contact us!
Experience. Software development companies offer experts in various fields. A good full-stack company will provide an experienced development team capable of dealing with complicated web or mobile applications. Your software will be created according to all your requirements and market demands.
Specific Technology. There are dozens of technologies and languages which developers use for software. For full-stack development, Python is at the forefront of Go Wombat's activity; it meets the requirements of our primary areas of AdTech, travel, healthcare.
Client's Repository. A software repository is the storage location for software packages. Usually developers in IT companies write code in their own repositories to prevent code leakage, then migrate it to the client's repositories. Our full-stack development services include the capability for our developers to work directly in the client's repository. Go Wombat knows that this requires a trusting relationship between client and company.
Team Size. The team size can be scaled up or down according to the project's needs; this adds agility to the software development process.
Knowledge Sharing. When many specialists are working at the company, they share skills and knowledge, which continuously increases engineers' knowledge and allows them to develop new competencies. You will also obtain interesting insights while working with a development team.
Dependability. Hiring a full-stack development company entails certain legal requirements to be managed. A reputable company such as Go Wombat company keeps up with all European laws and regulations, and our legal office is located in Estonia, while the tech staff is located in Ukraine. We adhere to all legal requirements.  A non-disclosure agreement (NDA) with our company guarantees confidentiality for both parties.
Project Support. A full-stack company like Go Wombat, with a highly capable team, can resolve issues efficiently during the life of the project.
Challenges with a Full-Stack Contract
Hiring a dedicated full-stack team brings certain challenges but they are all manageable.
Reliability. Due diligence is essential: you need to find out as much information as possible about your potential contractor. Read clients' testimonials, check the portfolio of the company, interview them. Don't be afraid to ask questions – a reputable company is always ready to answer all of them.
Project Control. It can be more challenging for a client to control a fully outsourced project than manage an in-house team. However, Go Wombat provides clients with continuous updates projects and holds daily online meetings every day to let them know of the project's progress.
Expense. Hiring a dedicated team will be more expensive than hiring a freelance developer because a full-stack development company provides all the required expertise and specialist capability. By contrast, a freelance developer won't be able to perform all tasks on behalf of a web developer, mobile developer, designer, tester, etc. The client will need to hire each specialist separately, which takes a lot of time and effort to coordinate the various inputs. This approach does not carry the same assurance of effectiveness as the one-stop shop of a single full-stack contractor.
Subscribe to our blog!
Steps To Hiring A Dedicated Full-Stack Team
You can consider the hiring process of a full-stack development team to be in 3 steps.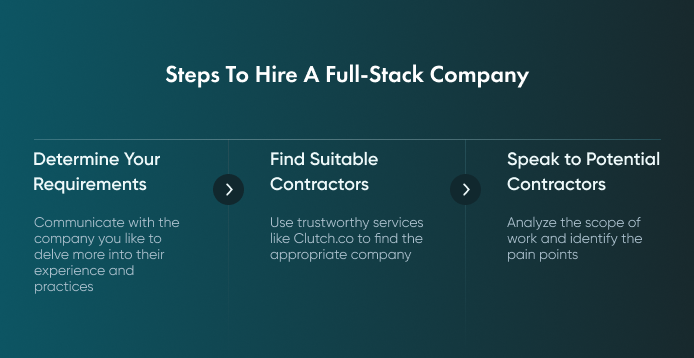 #1. Determine Requirements 
Your first step is to determine what you really need and what type of software you want to be created. You should analyse the target audience and identify your potential customers' demands. This leads to creating the scope of the work by a full-stack team. If you do not have in-house expertise, contact Go Wombat and let us help you.
A key part of your requirement analysis is evaluating the relative worth of the project to decide how much you are willing to invest in software development and setting your budget limit accordingly.
#2. Find Suitable Contractors
You should find a company that will meet all your needs. Where can you find a good company? Recommendations are invaluable. If you don't have direct contacts to provide personal recommendations, check resources like Clutch.co, GoodFirms and UpWork. These trustworthy websites provide clients' feedback, rating, and capacities; you can then narrow down your search and filter the potential contractors by size, location, rating, their field of expertise, etc., suitable to the scope of your project.
Go Wombat has many clients in Europe; however, modern technologies allow effective communication and work across the globe. We have clients in Australia and the USA with whom we work just as effectively as our near neighbours.
#3. Speak to Potential Contractors
Having drawn up a short-list of potential contractors, you should contact them to hold direct meetings to find out what each company may offer to satisfy your requirements. This direct communication with a full-stack development company allows you to identify their technical and project management skills. If the company is interested in your project, they will provide all the related information in the shortest possible time.
Go Wombat prefers personal communication with clients right from the start – no chatbots. We can visit clients or welcome them to our offices to discuss the project in a comfortable environment and build more tight relationships. We want to make the best use of your time, so we will make a full-stack web development roadmap as quickly as possible.
Go Wombat is a full-stack development company with the experience and technical skills to create your project, regardless of its complexity. Although our current principal activity is in AdTech, travel & hospitality, healthcare, and manufacturing, we can and do work in any area a client might need.
Contact us to find out about the great possibilities.